The trend highlights you should bet on if you have brown hair – Many women look to highlights for a way to brighten and lighten their hair. We already know which highlights are for brunettes and which are also ideal for blondes. It would help if you kept in mind that highlights are the perfect alternative to light brown hair  that illuminates the face and favours and subtracts years.
The trend that we see the most is that of natural hair. The highlights are as inconspicuous as possible. Indeed you are familiar with the types of highlights most in-demand in beauty salons for chestnuts (but also for brunettes and blondes). But, of course, we are talking about style reflections. To prevent them from being too noticeable on brown hair. You should avoid light highlights adjusted to the root, especially thick ones.
Tips Highlights for Chestnuts
Highlights credibly illuminate that chestnut hair by avoiding cold tones that are too discoloured and opting for others such as vanilla. Honey. Caramel and hazelnut (in the spectrum of gold) or copper.
It is an ideal technique for brown and even dark hair. As it allows you to space out visits to the hairdresser as much as possible. Thus preserving your hair from the punishment of frequent colouring. And it is that the fact that it without adjusting to the root allows maintaining a decent "look" while the hair grows.
It is applied freehand middle ends. Greater intensity in these. As if imitating the lightning effect that the sun would have on our hair after a summer at the beach.
Brown hair with balayage highlights in shades of gold, caramel, sand, hazelnut, cinnamon or copper, among others. The beauty salon professional should advise us based on our skin tone and the colour of our eyes, beyond the hair's natural tone.
Brown Hair – Melting Locks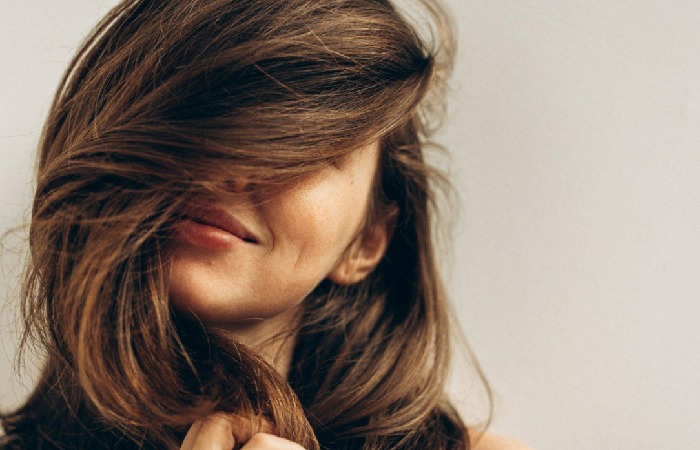 They are perhaps the highlights that require the most expertise on the stylist since their main characteristic is that they blend perfectly with the hair. Making it almost impossible to know where they begin and end. In addition, it is a more subtle way of applying lightening to the hair. Allowing low maintenance. Hence, the name "melting" alludes to how the colour melts into the base without showing any breaks. Precisely for this reason, they are ideal highlights to illuminate brown hair.
To achieve the effect. Several shades of combined to give the hair a multidimensional appearance, creating that natural shine through the same colour range compatible with the base.
Brown Hair – Locks «baby lights.»
These ultra-fine highlights will be perfect for those looking for a more subtle highlight and a more discreet lightening of their natural colour. In addition. They are ideal for achieving those blonde highlights that much brown hair reflects under the sun. Of course. It is advisable to avoid excessive contrast between a very dark base and a very light streak with this type of highlights to avoid falling into the grey hair effect.
It is a technique with other highlights such as "balayage", which allows a very natural and flattering lightening.
Highlights «money piece» + hair contouring
"Money piece" highlights conquered us in 2020 as a lightning technique for brown and dark blonde hair. It is a trend rescued from the 90s that allows us to illuminate the face by lightening the strands that frame. The face without sacrificing the natural colour of the rest of the hair. The key to achieving a flattering, natural-looking result is to lighten those strands no more than a couple of shades. Creating that precious "sunkissed" effect.
For this season. We propose combining this trend with an excellent job of «hair contouring» that illuminates the hair in strategic points to give volume where we need it and enhance the features of the face that interest us. Streaks of colour will focus above all on the contour of the facial oval to favour and compensate its shapes.
Multi-tone highlights
Choosing two or three shades between blonde, brown, and copper will give the hair unique nuances that will provide. It with more significant movement and luminosity with a natural finish. Just as the sun bleaches the strands in different tones. We can recreate this effect with multi-tone highlights that create separate streaks that enrich the base.