Explore streetwear outfits ideas that will turn heads wherever you go. Streetwear has become a lifestyle, allowing you to express your unique style comfortably and coolly. From oversized hoodies and sneakers to bold graphic tees and statement accessories, streetwear elevates your look and makes you feel like a true fashion icon. Step up your style game and embrace the urban streetwear culture to discover the perfect outfits to make you stand out.
What is a Streetwear Outfits?
Streetwear is a fashion style that originated from the streets, influenced by the music, skateboarding, and hip-hop cultures. It is characterized by its casual, comfortable, and edgy aesthetic. Streetwear outfits often incorporate oversized or baggy clothing, bold graphics, and unique accessories. The style is known for its rebellious and counter-cultural nature, breaking away from traditional fashion norms. Streetwear has gained popularity globally and has become a significant part of the fashion industry.
Over the years, streetwear has evolved and diversified, incorporating various subcultures and styles. From the early days of punk and skateboarding to the rise of hip-hop and high-end streetwear, the fashion world has witnessed the transformation of streetwear into a mainstream phenomenon. Today, streetwear has dedicated fashion shows, collaborations with luxury brands, and a devoted following of fashion enthusiasts. It has transcended its roots to become a global fashion movement that continues to push boundaries and inspire new trends.
Streetwear Outfits Ideas For Women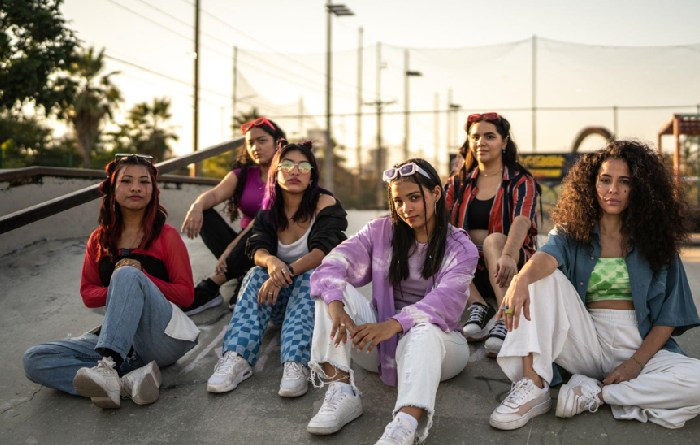 Streetwear is not limited to men; women can also confidently rock this style. Here are some streetwear outfit ideas curated explicitly for women:
The Oversized Chic
Pair an oversized graphic hoodie with leggings and chunky sneakers for a casual, comfortable streetwear look. Add a statement belt and accessorize with a bucket hat.
The Sporty Vibe
Combine a cropped sweatshirt with joggers and platform sneakers for a sporty yet stylish ensemble. Complete the look with a crossbody bag and a baseball cap.
Streetwear Outfits Ideas For Men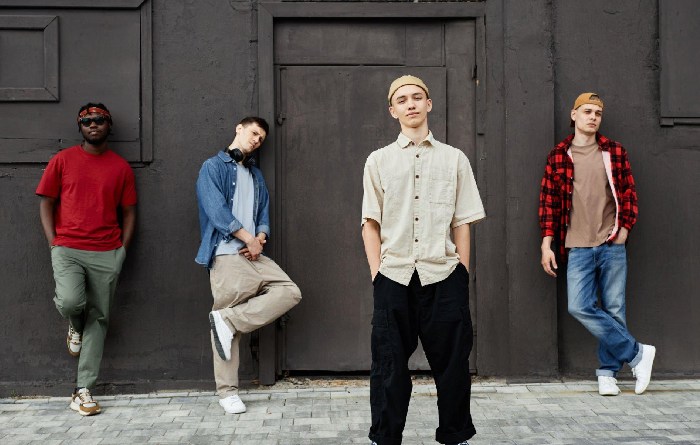 Regarding streetwear outfit ideas for men, there are countless options. Here are a few ideas to help you get started:
The Graphic Tee Outfit
Choose a graphic t-shirt with a bold design and pair it with black jeans and high-top sneakers.
The Athleisure Ensemble
Combine a hoodie with joggers and white sneakers for a comfortable and stylish look. Add a beanie and a backpack to complete the outfit.
The Classic Streetwear Look
Pair a plain white T-shirt with distressed jeans and a black leather jacket. Complete the look with a pair of black sneakers and a snapback hat.
The Layered Look
Layer a longline t-shirt over a hoodie and add ripped jeans and chunky sneakers for a trendy streetwear ensemble. Top it off with a baseball cap.
The Feminine Streetwear
Pair a flowing dress with a denim jacket and white trainers for a feminine take on streetwear. To add a dash of street style, accessorize with a striking necklace and a bucket hat.
The Edgy Casual
This Casual look involves wearing a leather jacket over a crop top or graphic t-shirt. It looks great with high-waisted jeans and combat boots for a tough streetwear look.
Remember, streetwear is all about self-expression, so feel free to experiment with different silhouettes, colors, and patterns to create a look that reflects your style.
Streetwear Outfits Accessories And Footwear
Accessories and footwear play a crucial role in completing a streetwear look. Here are some must-have items to consider:
Snapback Hats and Beanies
These accessories add an extra layer of coolness to any streetwear outfit. Opt for different colors and designs to match your style.
Backpacks and Crossbody Bags
Streetwear is all about functionality, and a stylish backpack or crossbody bag is both practical and fashionable. Look for designs with unique patterns or bold logos.
Chunky Chains and Statement Jewelry
Elevate your streetwear look with chunky chains, oversized earrings, or statement rings. These accessories add a touch of individuality and make a statement.
 Sneakers
Sneakers are the holy grail of streetwear footwear. There is a wide range of options, from classic styles to limited-edition collaborations. Invest in quality sneakers that reflect your style and provide comfort for all-day wear.
Conclusion
Streetwear is a way of life that allows individuals to express their exclusive style and personality while staying comfortable and cool. It involves breaking free from traditional fashion norms and embracing inner fashionista. Individuals can create unique looks that reflect their individuality by experimenting with silhouettes, colors, and patterns. By embracing urban streetwear culture, individuals can turn heads wherever they go and feel like true fashion icons. Join the global streetwear movement and unleash your inner fashionista to create captivating streetwear outfit ideas that turn heads wherever you go.