Date Night Hairstyles: Gone are the days of taking a flat iron to your hair until it was pin straight. Today's hair trends focus on volume, texture and unique looks. Whether you have naturally straight or very curly hair, there are dozens of simple do-it-yourself looks you can incorporate before heading out for a big date.
Thanks to social media platforms like TikTok and Instagram, finding hair tips and tricks seems like it's easier than ever. Check out some of these popular looks everyone is sporting these days, and then seek out videos for a visual tutorial on nailing the style. Don't forget to incorporate professional hair styling products to ensure that your look stays all night long.
Voluminous High Ponytail
The high pony is a staple as far as chic, fashionable hairstyles go. Even if you have fine hair, you can create the right amount of volume to ensure that this look stands out. Try blow drying your hair with a round brush to add a lot of volume. Pro tip: Blow drying your hair upside down can heighten your hair's volume even more. If you want a look with more waves, add curls to your style after it's dry. Once you've got a big, voluminous look, put your hair back and secure it with a soft hair tie to prevent too much pulling and damage. Spray the ponytail and your roots with salon hairspray to keep the style looking sleek and in place all night.
Textured Beach Waves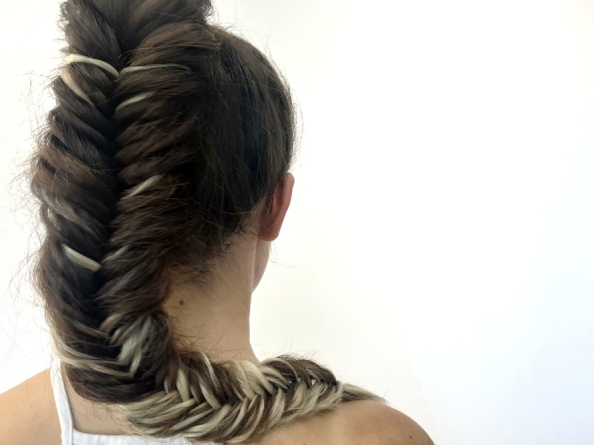 Beach waves never seem to go out of style — especially when the warmer weather creeps in. This is one of the quickest hairstyles that is easy to manage and lasts with just a little bit of styling and care. Flip your wet hair upside down and add curl mousse. Scrunch the hair up as you work the mousse into the hair to create more defined but still loose curls. Finish off the look by spraying a texture hair product and allowing it to air dry. You may want to touch up some pieces with a curling iron after the style has dried. 
Fishtail Braid
The fishtail braid is a popular and beautiful way to incorporate a relatively simple style into something chic and new. Mastering the braiding technique is probably the most difficult part of this style, but once you've learned how to do it, this can be a gorgeous look that you can whip up in a hurry. The method of braiding is similar to traditional braiding; however, you split the hair into two sections instead of three, and you should use smaller pieces of each section and intricately weave them together. Once you know how to do a fishtail braid, you can incorporate this into many different styles.
Classic Blowout
A traditional blowout never goes out of style — but there are new tools that can help you achieve this look better than ever before. Using a round brush to add volume and soft curls is essential to creating a gorgeous blowout. However, if you have had trouble in the past mastering the use of blow drying and the round brush at the same time, try using an all-in-one brush blow dryer. The dryer itself is shaped like a round brush to make styling all that much easier. Be sure to finish the style with professional hair styling products so it stays gorgeous all night long.
Flipped Braid
Another unique and quick style, the flipped braid works best on longer layered hair. To achieve the look, first pull your face-framing hair pieces down under your chin. Secure them into ponytails with small elastic ties. Create at least three or four mini "ponytails" like this and then flip each one over your head. Gently pull some of the hair out to give it a messy updo look. Though the style is simple in theory, it does take some practice to get it right, so you might want to give this one a try before date night comes around.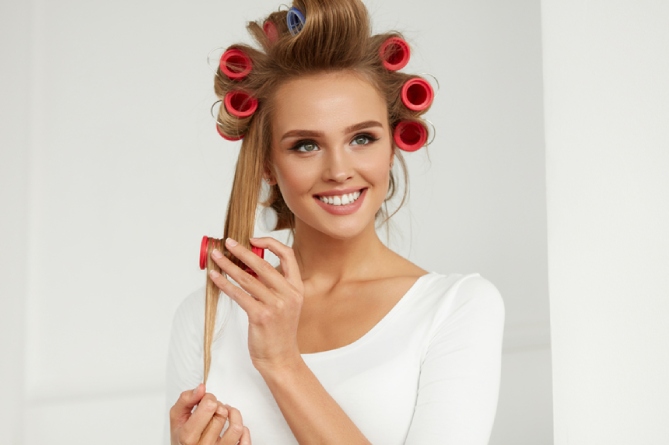 No-Heat Blowout
If you're looking for that gorgeous blowout look, but you don't want to use heat on your hair, have no fear — the no-heat blowout is here. This particular technique has gained a lot of attention on TikTok, though it does work better on people with longer hair. There are multiple methods to achieve this look, but start with rolling up an old T-shirt into a circular doughnut-like shape. Then, part your hair and begin wrapping sections of hair around the T-shirt. You will continue wrapping sections until all of your hair is secured with bobby pins at the back of your head. Though it may not be the most comfortable sleep, wear this through the night and, in the morning, you'll discover gorgeous, cascading waves without using any heat tools.
Braid Side Detail
For a quick way to add a little flair to your hair without spending too much time on styling, create a braid on the side of your hair to add a cute detail. If you have very curly hair, you can keep the rest down or add another braid to the other side. For curly and straight hair, you can create an updo or a half-up half-down look to complement the braid. There are dozens of ways to step up this style, but the braid detail is a cute, quick way to switch up your everyday look.
And that covers our fave date night hairstyles! Which one will you choose on your next night out?